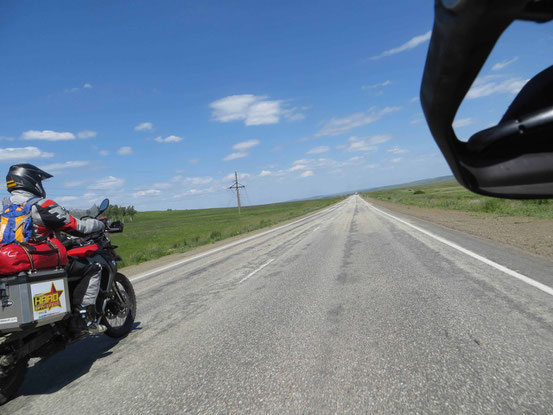 WE MAKE PLANS, SO WE HAVE SOMETHING TO CHANGE...
Moren than 4.000km are done already, almost the half of the first leg of the tour. And yes, the plan was to go offroad right after the urkanian border, but since this did end in the middle of nowwhere twice, we decided to stay a little longer on asphalt.
We are addicted! Gaining kilometers with the F800 Adventure is just the pure pleasure. We love it! And gaining kilometers in Russia is pure fun! The endless, roads, the hughe country, the people, the clowds... (Except some 400kms where the road condition and the traffic made it a real suicide trip).
After that hell of ride yesterday, we turned left and entered the Ural mountains: Now traffic, our eyes finally could log on some hills and forests and then, the first curves since ages come up, and many others followed.
By now, we are out of the Ural mountains and we are facing the endless space of Kasachstan. We will enter the country tomorrow and then the bikes (and we) will get a lot of dust to eat...
---