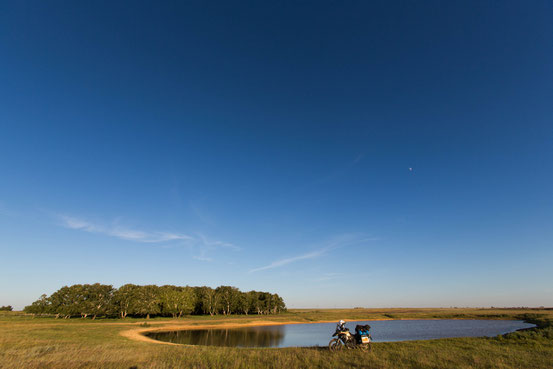 We are moving - more than 6300kms are laying behind us. And we still love to move on - are we crazy?
The Adventure unlimited starts every day again: We never now where we are going, what is waiting for us behind the next curve, where do we get food and fuel, where do we sleep... it is permanent adventure and challenge.
Leaving the Ukraine and entering Russia was much easier than I would have ever hoped! In 40 minutes everything was done and even when Joop did some mistakes on the customs declaration, the officer gave him a new formular to fill in again (4x in total). Everybody was nice and helpfull and the officer at the last checkpoint just wanted to see us roaring of...
Heading east on the direct way is always nice, except the 400kms towards Ufa. F...hell, very, very bad road with deep holes, ruts, cuts and dirt, a lot of big smelly trucks and a lot of russians on their way back home after the weekend party at their Datscha...
But at Ufa, we left the main road and entered the Ural mountains on a nice little road that treated us with nice curves and a beautiful green landscape. We just stepped over the geographical border between Europe and Asia and found a nice place to sleep in Asia...
Facing the wide land and steppe of Kasachstan, the green hills of the Ural mountain getting smaler and smaler in our mirrors. Crossing the border was as easy as entering Switzerland. We follow a main road (we thought) that became worse every kilometer. We left that rest of a road and started using little sideroads. Beautifull! Our campground is a field bigger than we can see - the next day we just follow smal trails and tracks by making sure we going east. That way we could stay out of the towns and the capital of Kasachstan and enjoy the beauty and peace of the wide landscape. (Well, not every trail I took was right - poor Joop had to turn around once in a while).
Leaving Kasachstan and entering Russia again took as a little more than 10 minutes! And, not as planed, we just went the whole way to Barnaul in one stretch. This gives us day off now in Barnaul (which I used to check and upload pics). One day without riders gear is nice too. And I had the time to meet my old friends Victor & Evgeny who helpled me to explore the Altai on a R 1200 GS 9 years ago.
Tomorrow the Altai is calling, the region where your inner voice is getting lauder...
---