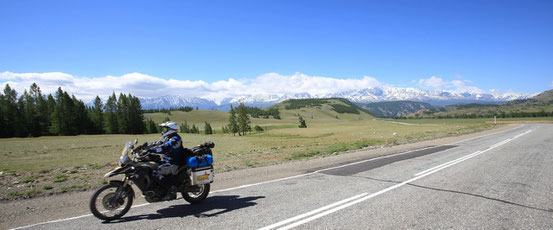 The Altai Mountains – what a region!
Within the beauty of this untouched nature you automatically calm down and relax. The inner vice is getting louder here, that's what they say
Beautiful mountain roads – On- & Off-road are guiding through the mountains. Mountains that are looking like Tuscany in the beginning, but getting soon close tot he alpine scenery oft he Swiss Alps. Wild rivers are cutting through high valleys; perfect curve-combinations are changing with more selective parts.
Cheeps, cows and horses are enjoying the nature as we do. Just breathe taking what comes up after almost every curve. Sometimes it I shard work to keep the concentration on the track...
A small thunderstorm can turn the easy to ride dirt roads into super slippery mud roads. Within a split of a second Joop is losing his bike. It is just slipping away from him. But except a scratch in his ego, nothing happened...
The night we spend in a little wooden GER, close to a restaurant. The restaurants starts filling with boys and girls and the loud music cannot be stopped by our earplugs. But at 23:00 the old lady stops he party with a yell...
The scenery on our way tot he Mongolian border is getting more and more breath taking. Every kilometre is a real pleasure and it is true: The Altai offers some oft he greatest motorcycle roads on this planet: On- & Off-road.
Just great! And that's not only our inner voice telling us...
---