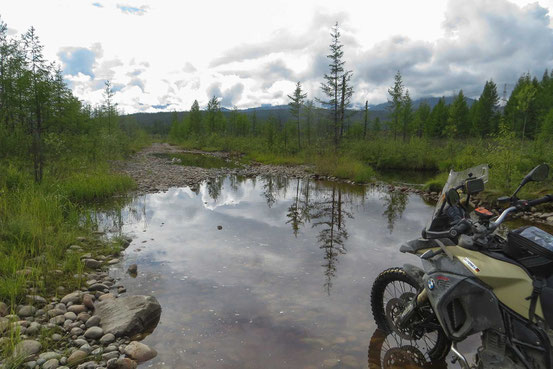 We have to wait three days for the next train to Tynda. Since Taksimo is close to the famous Vidim bridge, I want to give it a try. If I can not ride the BAM all the way to Tynda I want at least ride the Vidim bridge. Corinna will spent the day at the train station to do all the necessary arrangements for our train ride towards the east, so I prepare myself for a day trip to the Vidim bridge. Corinna will follow my progress via the SPOT device and we have set a "final return time". So I can make sure to be back during daylight.
In very good mood I leave the town and I just let the bike run on the sandy track outside Taksimo. The suspension is working hard and the F800 Adventure feels just perfect. After a right turn from the main track, I can feel the remoteness of the area. This track is not used very often - mainly from some crazy motorbikers on their way to the Vidim bridge. I can easily follow the tracks from Chris and Eric since they are just 3 hours ahead of me.
The track is slowly getting more demanding. High concentration is requested. I am passing two bridges and then the first big puddle is there. Again full of round, slippery stones and quite deep. My inner voice warns me, but I need to try - the Vidim bridge is some 20 km away... I am stuck in the puddle. No way out. I get of the bike, unpack all the Ortlieb bags and the panniers, drop the bike in the water and turn it around. That's it - no way further without the help of a second rider. I fight the bike out of the water and put the panniers and bags back on the bike. Puh, exhausting. I sent a text message to Corinna to let her know that I am turning around, take a sip of water out of my Camelbak and start the bike.
It is funny, riding a track like this with two or more riders, the bridges are not a big problem, you just search for your line, make sure your vision goes "into the future" (the direction you want to go) and ride over it. Now, since I am alone, my head turns these bridges into serious things. Slowly, centimeter by centimeter I am paddling with the boots the bike over the bridge, being very careful with the clutch and throttle, watching every millimeter I am moving forward.
THAT'S IT!  I don't know what happen, but I am going down!
I can hear something breaking and then it is very quiet. I need to get some air into my lungs. System check: I can feel and move my legs. Puh, that is always the biggest concern. Head hearts but moves too, I can see, I can hear, I can breath free, my left hand hurts, no movement possible, my right hand hurts, small movements possible. I get off the bike and take my helmet off. Outch, my left knee is not working properly too. Pick the SPOT from the handlebar and crawl up to the road. I know, I have about 10 minutes to do what I have to do before the real pain jumps in. I get my cellphone out and luckily I am having reception. I give Corinna I call that kills her day: "Corinna, I fell some meters off a bridge, I broke both hands and I have no idea what else may be broken or injured. Please get some help out to me." I place myself in the middle of the road and try to find a position that does not hurt but that is uncomfortable enough to not fall asleep. Pain comes, I am carefully watching every reaction of my body. My circulation goes up and down - It is not a very funny situation because I know that it will take hours to get someone out to me.
It takes a while until my brain understands what my ears register: Engine noise! Can this be possible? While still thinking if I start to hallucinate a white KAMAZ trucks turns up. I "jump" up and wave. They stop and I explain with signs and some words what happen. Completely easy, as they would do this every day, they drive the Kamaz on the bridge, unfold their little crane and start lifting the bike out of the gap.
I try to convince them to turn around and bring me back to Taksimo and Corinna. But they insist in going on, because the next hospital is closer than Taksimo. They load the bike on top of their load on the truck, put me into the truck and off we go. Good choice to turn around - the following puddles are even deeper then the one I got stuck in. The driver of the Kamaz is extremely save and confident - he knows that track by hard. And there we are, on the Vidim bridge. The guy next to me offers to film and I am really scared. This truck needs the full size of the bridge, every little mistake would kill us instantly. The Vidim bridge is much scarier sitting high in a truck than I can imagine it would be on a bike (and it must be very scary on a bike already). 
We arrive in the next town (after 1,5 hour ride) and by now, I can not move my hands any more and I can not put any weight on my left leg. My head feels like after an explosion and I am completely exhausted. While the guys from the Kamaz unload my bike, a Lada car shows up. They put me in the car and bring me to the "hospital". A young doctors is taking care of me. He is taking all my clothes off - including the boots, the orthosis and everything else without using scissors. 
His examination is done with his hands only. He has no technical equipment here to do an x-ray. But he is very good and calm. He gives me some injections and starts to fix my left hand/arm. Then he brings me over into an other room. His wife is waiting there with a lot of home made food on the table. She is making sure I am eating a lot and gives me almost 2 liters of home made "compot" to drink. The put me to sleep for some hours.
I am going back to Corinna! (I keep her informed by some phonecalls). They get me out of bed, pack all my riders gear into a sports bag, bring me to the well hidden bike and take everything off the bike before they bring me to the train station. They place me in a little compartment together with a family and disappear. I can not even thank them. The only thing I have is a piece of paper with a phone number and a tie - At this time, me bike will be at the Taksimo train station tomorrow. The train brings me back to Taksimo (it is a train that is not displayed on any schedule - Corinna was already on her way back to the hotel when I arrived). At the train station people are waiting for me. They pick my bags up and bring me to the hospital. Finally, Corinna is here also. That is a big release for me (but also for her - I can see in her face that the last hours have been hard hours for her). At the hospital they take some X-rays and keep me there for two days without doing anything with me.
Corinna is busy to organize a bike transportation direction Moskow and to arrange our re-transportation together with the German automobile club (ADAC). 3 days later, after a 50 hours train ride and two 4 hours flights, we are back in Germany, where a medical car brings me to the hospital where a specialist and friend is waiting for me. We are save back home.
After a surgery and some weeks, my hands are almost back to normal, our life also and besides all the pain and the unexpected and unplanned end of the hard way east what really stays in our hearts is the unconditional help, the hospitality and  the kindness of all these nameless people. It is really a gift that we could experience all that!
THANK YOU ALL!
...yes, there is a bill open in the far east! I need to go back tehere to say thank you to all the people that helped us and to ride the Vidim bridge by bike and finally reach Magadan...